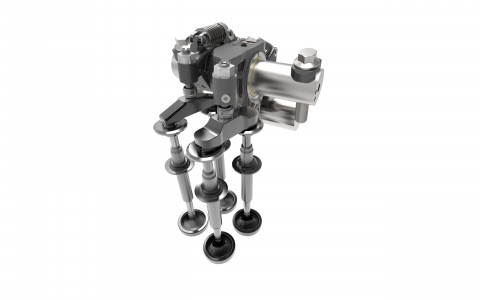 Eaton Motor Group receives US DOE subsidy to develop technology to reduce farm cost emissions
Gailsburg, Michigan–(Business Wire / Korea Newswire) December 17, 2021 — Electricity management company Eaton's Vehicle Group is working to reduce farm cost emissions by the U.S. Department of Energy (DOE). Received $2.4 million in technology development grants.
Eaton expects to reduce the time it takes to reach its 2030 Sustainability Goals thanks to grants from the DOE. Eaton has set a goal of reducing emissions by 15% across its solutions and value chain by 2030.
Eaton plans to use the subsidy to develop a technology to reduce greenhouse gas (GHG) and nitrogen oxide (NOx) emissions by 10% and 90%, respectively, of agricultural powertrains designed with various operating cycles. It is a necessary technology to ensure application versatility, cost-effectiveness and durability in agriculture. Meanwhile, Eaton has also won a $4.9 million grant to develop a new modular solid and small transformer that will reduce the cost and size of DC fast charging systems.
Dr. Mihai Dorobantu, Head of Technology Planning and Hire at Eaton Motor Group, said, "The off-highway sector, including the agricultural sector, lacks technical solutions, resulting in significantly higher emission levels than on-road applications. "The DOE grant will provide significant benefits for developing technologies that will significantly reduce GHG and NOx emissions, and will help Eaton achieve its sustainability goals." "DOE grants support Eaton's efforts to develop technologies that will reduce emissions in applications that are difficult to decarbonise," he added. "Research partnerships to optimize architectures and components are also possible."
In line with the purpose of the subsidy, Eaton Motor Group plans to develop new parts for agricultural applications and revise technologies developed for commercial vehicles, such as engines and after-treatment systems. Agricultural solutions differ from advanced on-road technologies because they are unique and are used in a variety of changing driving cycles.
Achieve your goals with our comprehensive technology portfolio
Eaton plans to partner with major engine manufacturers to achieve DOE's goals by developing innovative technologies that provide higher engine compression ratios, reduce friction, increase turbomachinery efficiency, and minimize mechanical losses.
Eaton will adapt a variable valve actuation (VVA) solution developed for commercial vehicles for agricultural use. Eaton's VVA technology is based on two building blocks: a switched capsule locker and a split locker for total deactivation. Combining these two building blocks enables versatile VVA strategies for virtually any engine architecture with engine displacements ranging from 2.0 to 15.0 liters, from single and dual overhead cams to cam-in-design. have.
Cylinder deactivation (CDA) is a VVA technology that deactivates fuel injection in some cylinders as well as opening the intake and exhaust valves when the engine is operating at low load. CDA is an ideal solution for commercial vehicles with frequent stops as much as agricultural equipment. By using CDA, NOx emissions can be reduced by up to 40% and carbon dioxide (CO2) emissions can be reduced by 5-8%.
Eaton will also focus on active catalyst preheating technology to support exhaust heat management. Active preheating solutions transfer heat directly to the car's aftertreatment system to preheat the Selective Catalytic Reduction (CSR) catalyst to 200-250 degrees Celsius as quickly as possible and maintain that temperature during low-load operation, thereby reducing harmful NOx emissions. .
Eaton also plans to utilize positive displacement TVS exhaust gas recirculation (EGR) pumps to help achieve program goals. The EGR pump complements the high-efficiency turbocharger to reduce fuel consumption and lower emissions by reducing pump losses in the engine. Because the EGR pump is a positive displacement device, the engine controller uses the pump speed signal and CAN sensor data to accurately calculate the EGR mass flow rate.
Dr. Dorobantu said, "This program will serve as a basis for responding to GHG and NOx reduction regulations targeting the off-highway sector and providing economic benefits to end users."
The goal of DOE's DC Fast Charging subsidy program is to significantly reduce the time it takes to install charging infrastructure at end-user facilities. By combining advanced components and innovative cooling approaches, Eaton plans to develop new technologies that eliminate the need for multiple power converters. The goal is to lower the threshold of charging infrastructure, which is considered an obstacle to deployment of commercial electric vehicles, by minimizing facility change requirements so that charging stations can be installed even in remote areas. This grant is part of the DOE's efforts to achieve its net zero emission goal. The DOE is committed to replacing half of the vehicles on U.S. roads with zero-emission vehicles by 2030, and to achieve a net zero economy by 2050.
DOE's grants also support the mission of Eaton Automotive Group and its eMobility business unit by providing sustainable solutions to increase the efficiency, reliability and performance of vehicles. Eaton's automotive products include emission control components, engine valves, valvetrain systems, fast chargers, transmissions, clutches and torque management systems. In addition, it has intelligent power electronics, stable power distribution and protection solutions, and efficient electric power systems as its e-mobility portfolio.
More information about Eaton's automotive group and e-mobility business can be found on its website. https://www.eaton.com/us/en-us/markets/vehicles.html
Eaton's mission is to improve the quality of life and the environment through power management technologies and services. The company provides sustainable solutions that enable customers to effectively manage electrical power, hydraulic power and mechanical power safer, more efficiently, more reliably and effectively. Eaton had sales of approximately $17.9 billion in 2020 and sells products to customers in 175 countries. It employs approximately 85,000 people. For more information, visit the website (www.eaton.com) Reference.
View full text on Businesswire (businesswire.com): https://www.businesswire.com/news/home/20211216005939/en/
[이 보도자료는 해당 기업에서 원하는 언어로 작성한 원문을 한국어로 번역한 것이다. 그러므로 번역문의 정확한 사실 확인을 위해서는 원문 대조 절차를 거쳐야 한다. 처음 작성된 원문만이 공식적인 효력을 갖는 발표로 인정되며 모든 법적 책임은 원문에 한해 유효하다.]
Website: http://www.eaton.com
View the English version of this press release
This news is a press release issued by a company, institution, or organization. Media is available for news coverage.
Reference-www.newswire.co.kr